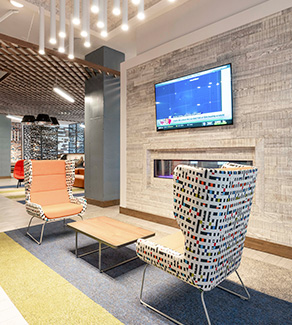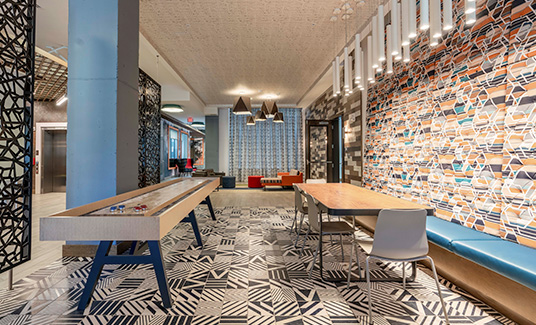 AU Student Housing Guide For Parents
As a parent, you want to ensure your child is set up for success in everything, especially college. The Standard at Auburn is here to help you accomplish just that! Our apartments near Auburn University support every aspect of students' lifestyles. Furnished units provide all the comforts of home, luxury amenities offer convenient entertainment and resources, and our property location near Auburn's campus makes attending classes and school activities a breeze. Review our guide for student housing, and feel free to contact us to schedule a property tour.
Spacious Floor Plans
The Standard at Auburn offers floor plans sure to fit anyone — including studio apartments, one-bedroom apartments, two-bedroom apartments, three-bedroom apartments, four-bedroom apartments, and five-bedroom apartments. With affordable monthly installments designed to accommodate student budgets, our Auburn off campus housing allows residents to enjoy luxury lifestyles without breaking the bank. Our units are furnished and come with cable, high-speed Internet, and water utilities included in monthly installments.
Furnished Apartment Interiors
Your student's apartment should comprise a comfortable environment where he or she can seamlessly prepare for their courses, effortlessly unwind after a long day of classes, and conveniently hang out with friends. To help our residents maximize their time at home, each of our apartments come fully furnished with modern apartment features, stainless-steel appliances, full-size washer and dryer, and granite countertops, among additional features.
Resort-Style Amenities
Residents of our Auburn, AL, apartments have access to a range of upscale student living amenities throughout our property. Each of our amenities is designed to help residents enjoy a well-balanced lifestyle and was created to help promote student achievement in academics. We offer a computer lab and study lounge, game room, rooftop pool and deck, private courtyards, garage parking, and a central location that is walking distance from a number of local-favorite retail stores and restaurants.
High-Quality Construction
Our abundant amenities, student-focused environment, and spacious apartments built with high-quality materials and custom-designed furnishings are among the factors that distinguish The Standard at Auburn from other Auburn apartments for rent. Whether residents choose to live alone in a studio or one-bedroom apartment, or with roommates in a multi-room unit, each layout features kitchens with durable stainless-steel appliances and quartz countertops, and apartment walls designed to limit noise absorption to surrounding units.
Located Close To Auburn University
Our Auburn apartments provide residents with conveniently located, off campus housing that is just minutes from the heart of campus. What's more, the central location of our apartments in Auburn, AL, allows college students to experience independent living and creates an opportunity for residents to explore the best of the vibrant, immersive Auburn community. Our residents live within walking distance of the Auburn University Museum of Natural History, the Jordan-Hare Stadium, and a number of local retail stores and restaurants.
Roommate Matching Via RoomSync
Are you looking for more control over how you are matched with roommates? Through the RoomSync app, residents are empowered to choose roommates and build a sense of community using lifestyle habits such as cleanliness levels, studying habits, sleep cycles, and more. RoomSync offers an experience that supports a diverse and inclusive matching community through gender-inclusive tools. Furthermore, the app recognizes the importance of living criteria like service and emotional support animals and factors this into the matching process.
Individual Housing Contracts
The Standard at Auburn offers residents individual housing contracts, which span 12 months,  starting in August and ending in July. When students sign an individual housing contract, they will be held responsible only for their portion of monthly payments — they will not be held liable for roommates' payments. Housing contracts at our Auburn apartments are designed to follow the university academic calendar, so students can move in and get settled before the fall semester begins.
Secure, Electronic-Key Entry
At The Standard at Auburn, we understand that the well-being of your student is a top concern for you. That's why our student community utilizes an electronic entry lock on the front door and for each individual bedroom..